Project management is becoming increasingly important. In the past, project management consisted mainly of collecting metrics and project data for evaluation, then making adjustments in order to increase productivity and efficiency.
Project managers were also responsible for managing human capital (making sure that a project had enough "people" to get all tasks completed).
With the rapid proliferation of technology, the importance of project management has increased exponentially in terms of the tasks required of a project manager, as well as the knowledge necessary to perform these tasks.
What is a Project?
Projects exist in every enterprise. A project is run with an objective to deliver unique products, services, or events, and also contribute to bring about major organizational changes or recovery from natural or man-made disasters.
Projects have starting and ending points in time and progress through a number of life cycle phases.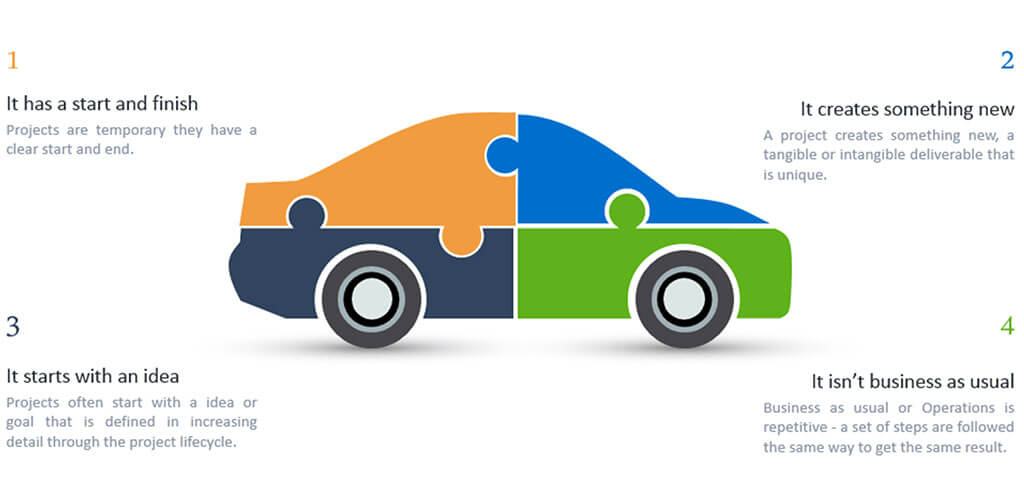 According to Wikipedia, a project is an individual or collaborative enterprise, possibly involving research or design, which is carefully planned, usually by a project team, to achieve a particular aim.
A project may also be a set of interrelated tasks to be executed over a fixed period and within certain cost and other limitations.
What is Project Management and how is it different from Operational management?
A project in any organization is a collaborative effort across departments to achieve a single well-defined goal. The process of planning, organizing and managing resources to achieve the organizational objective is called project management.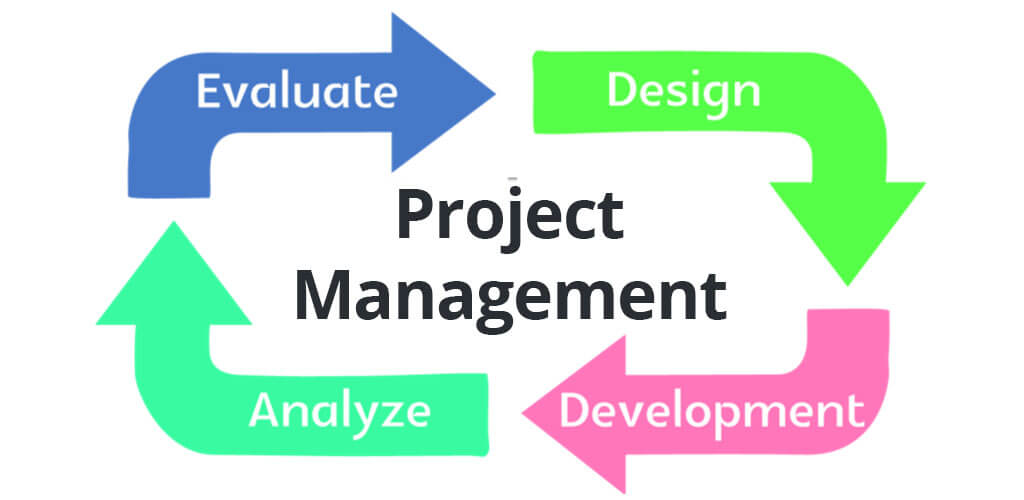 On the other hand, Operations Management is an ongoing organizational function that performs activities to produce products or supply services. For an instance, production operations, manufacturing, IT service management, and accounting operations.
Furthermore, operations are permanent endeavors that produce repetitive outputs. Resources are assigned to do the same tasks according to operating procedures and policy.
In contrast, projects are temporary and help the business to meet organizational goals and to respond quickly and easily to the external environment. Organizations use projects to change operations, products and services to meet business need, gain competitive advantage and respond to new markets.
Here are the quick differences between operation and project management
| | | |
| --- | --- | --- |
| Role assigned to manager | Project manager | Operation Manager |
| Duration in the role | Role ends with project | Routine |
| Team | Temporary team | Stable organization |
| Work type | Work not done before | Work repeatable |
| Factor depends on | Time, cost and scope constraints | Annual planning cycle |
| Budget time estimate | Difficult to estimate time and budget | Budgets set and fixed events |
Popular Project Management terminologies:-
Before, we move into the details of project management, we need to understand some common project management terminologies.
Project Scope:-
Project scope is the part of project planning that involves determining and documenting a list of specific project goals, deliverables, features, functions, tasks, deadlines, and ultimately costs.
In other words, it is what needs to be achieved and the work that must be done to deliver a project.
Requirements:-
Requirements are descriptions of how a product or service should act or perform. Requirements generally refer to the features and functions of the deliverables you are building on your project.
Project Management Communication Plan:-
A project communication plan that will guide the messages to the stakeholders is a critical part of any project. How well you communicate throughout the life cycle of your project can make the difference between success and failure.
Task:-
In project management, a task is an activity that needs to be accomplished within a defined period of time or by a deadline to work towards work-related goals. A task can be broken down into assignments which should also have a defined start and end date or a deadline for completion.
Resource:-
In project management terminology, resources are required to carry out the project tasks. They can be people, equipment, facilities, funding, or anything else capable of definition (usually other than labor) required for the completion of a project activity. The lack of a resource will therefore be a constraint on the completion of the project activity. Resources may be storable or non-storable. Storable resources remain available unless depleted by usage, and may be replenished by project tasks which produce them. Non-storable resources must be renewed for each time period, even if not utilized in previous time periods.
Stakeholders:-
Stakeholders are those with any interest in your project's outcome. They are the members of a project team, project managers, sponsors, customers, and users. They are people who are invested in the project and who will be affected by your project at any point along the way, and their input can directly impact the outcome of your project.
Sponsor (executive sponsor and project sponsor:-
Sponsor is the person who is responsible for funding of the project. The executive sponsor provides project funding, resolves issues and scope changes, approves major deliverables, and provides high-level direction. The project sponsor represents the executive sponsor on a day-to-day basis and makes most of the decisions requiring sponsor approval. If the decision is large enough, the project sponsor will take it to the executive sponsor.
RACI matrix:-
RACI organizes your project so that everyone knows what's happening. With the RACI, map out who is Responsible, is Accountable, must be Consulted with, and shall stay Informed.
Let's break it down further. Here is what your project delegation looks like with RACI.
Responsible –Person responsible for completing the task.
Accountable –Decision makers and person responsible to taking actions on the task(s).
Consulted –– Person to be communicated with regarding decisions and tasks
Informed –Person to be updated on decisions and actions during the project
Project Scheduling:-
Project scheduling is a mechanism to communicate what tasks need to get done and which organizational resources will be allocated to complete those tasks in what timeframe. A project schedule is a document collecting all the work needed to deliver the project on time.
Critical path:-
The critical path is the longest sequence of activities in a project plan which must be completed on time for the project to complete on due date. An activity on the critical path cannot be started until its predecessor activity is complete; if it is delayed for a day, the entire project will be delayed for a day unless the activity following the delayed activity is completed a day earlier.
The duration of a project can only be estimated once you know what resources are available, for example, if a project is estimated to require 1000 hours of effort and only one person is available to work on it, it may take six months or more. However, if three people are available, it may be possible to complete the project in two months.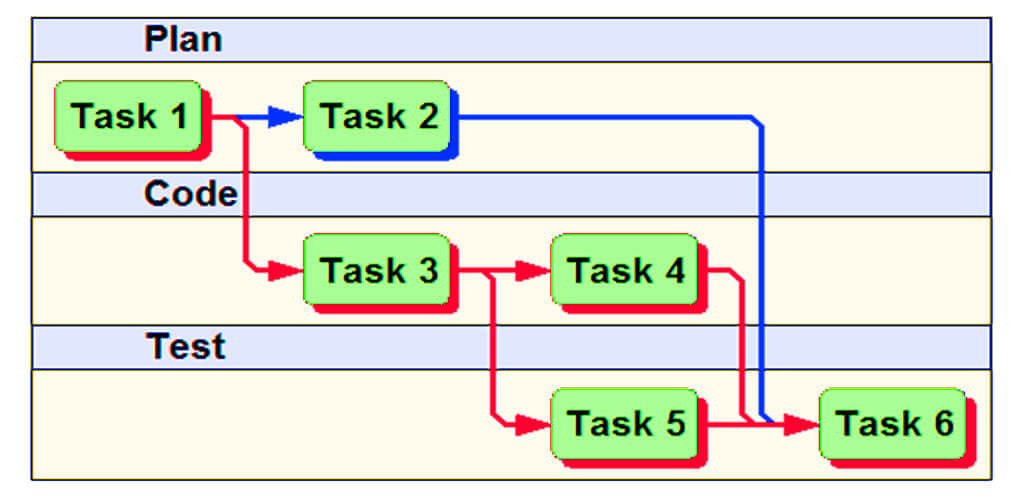 Estimating Project Duration and Costs:-
The duration of a project can only be estimated once you know what resources are available.
For example, if a project is estimated to require 1000 hours of effort and only one person is available to work on it, it may take six months or more. However, if three people are available, it may be possible to complete the project in two months.
Costs are normally split into labor costs and non-labor costs.
The labor cost can be determined by examining the number of hours of effort required and the cost per hour.
If you are using external labor, e.g., contractors or consultants, the costs should be estimated and budgeted in advance.
This is straightforward if you already know your exact requirements, but if the final staffing requirements are not yet known you may need to make some assumptions based on the general type of staff required, e.g. use standard hourly cost for accountants, programmers, office administrators.
Non-labor costs include everything not directly related to salary or contractor costs. Some of these, such as training and team-building costs are employee-related, but they are not regarded as labor costs as they do not relate directly to employee salary or contractor costs.
Every project manager should be familiar with the accounting rules in his or her own company to ensure that labor and non-labor costs are allocated correctly.
Project Risk:-
Project risk is an uncertain event that, if it occurs, has an effect on at least one project objective. There are no risk-free projects because there are an infinite number of events that can have a negative effect on the project. Risk management is not about eliminating risk but about identifying, assessing, and managing risk. We will talk more about it in the Risk management module.
In the next article, we are going to see how to kick start projects effectively and set them for success!